Your Youth Tractor and Farm Safety 2022 Registration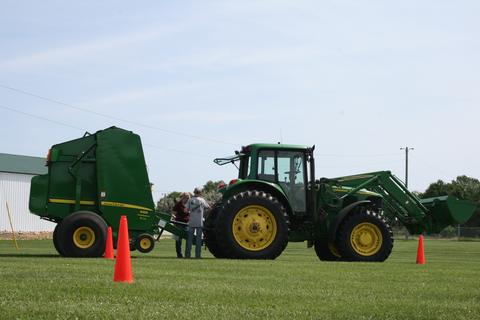 The youth tractor and farm safety certification program provides youth 14 years and older the opportunity to learn about safe equipment operation and general farm safety. Students who participate in the program will:
Work hands-on with full-sized tractors and implements.

Receive training in farm-related basic first aid.

Learn about farm safety from a range of experienced community members.
Students who complete this program will receive a U.S. Department of Labor certificate of training. This certificate is required for 14- and 15-year-olds who wish to work with equipment with over 20 horsepower off of their family farm or homestead.
This a hybrid course that includes 8 hours of online instruction (completed independently) and two days of in-person instruction.
Please start your registration by either logging in or signing in as a new user. Note: the email address and password created in the first step of the registration process will be used to log into the online course. If you are a parent or guardian registering multiple youth participants, you will need to create separate accounts with unique email addresses and register each participant individually.
Course fee
$40*
Course contact
Emily Krekelberg
krek0033@umn.edu
612-756-3977
Registration help
ext-reg@umn.edu
Help with online learning
https://extension.umn.edu/courses-and-events/get-help-online-learning
*Scholarships are available for those with financial need. If interested, please contact Emily at krek0033@umn.edu. Also note: registration for each location closes 5 days prior to the event. No refunds will be issued for cancellations requested after registration closes. Cancellations prior to close of registration will be fully refunded.
Required fields are indicated by .