LL X125
-
The Demoted but Unforgotten Gods of Ancient Scandinavia
10200335
Description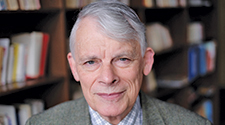 Click here for new section.

The conversion of Scandinavia to Christianity resulted in the banishment of the old gods, but, unlike what happened in England and on the European continent, the northern myths have not been lost. A Dane (Saxo) and an Icelander (Snorri Sturluson) preserved numerous tales of Odin, Thor, Frey, Balder, Loki, Freya, Frig, and others.

Our main sources are the Poetic Edda (a collection of ancient songs) and Snorri's Prose Edda. We see the world emerging from an encounter of cold and heat, a primordial giant dismembered and becoming the sky, the sea, the mountains, the stars, and the rest of the universe. The gods fight giants, monsters, and one another; they make love, seduce gullible women, and move toward the final battle in which everything and everybody will perish.

More "primitive" than the famous Greek myths, the myths of medieval Scandinavia breathe the spirit of fatalism. Rest assured, in this course, the gods will appear in their original greatness and for a while triumph over chaos. We'll even allow the earth to bloom again.

Recommended: Snorri Sturluson, Edda, any edition.

Anatoly Liberman, PhD, is a professor in the Department of German, Scandinavian, and Dutch at the University of Minnesota where he teaches courses in linguistics, etymology, and folklore. An internationally renowned scholar of word origins, Liberman discusses the topic regularly on MPR and is the author of Word Origins and How We Know Them: Etymology for Everyone (Oxford University Press, 2005). The language and literature of the medieval North are among his primary teaching and research areas.
Cancellation are subject to a 10 percent processing fee if received five or fewer working days before the program start. Refunds are not granted if you cancel on or after the first day of the program. Notice may be emailed or faxed to: ccapsinfo@umn.edu | 612-624-5359.
See complete list of LearningLife courses.