LL X126
-
Intelligent Machines: The Benefits and Risks of AI
10211408
Description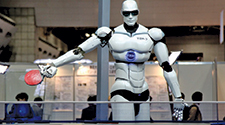 From Samuel Butler's Erewhon (1872) and 20th Century Fox's The Day the Earth Stood Still, to Marvel Comics's Ultron and Clarke/Kubrick's 2001: A Space Odyssey, popular culture has long surmised hypothetical scenarios in which artificial intelligence (AI) becomes the dominant form of intelligence on earth, only to wrest control of the planet away from the human race. But how likely is this scenario? And now, well into a new era of AI, is its pervasiveness something to be feared? Can artificial intelligence be controlled?

AI has made incredible progress in the last few years and is reaching the point where it has the potential to affect society in major ways. In the future, intelligent systems and robots will become part of our daily lives, helping with routine tasks, handling dangerous jobs, and keeping us company. But they could also become capable of making decisions that violate our ethical principles, take control of our lives, and disrupt our societies.

This seminar explores the state of the art in intelligent systems and digs deep into both the future developments and open challenges of AI.

LearningLife seminars embrace Socrates's belief in inquiry and exchange; they include both lecture and critical discussion. Tuition includes continental breakfast.

Maria Gini is a Morse Alumni Distinguished Teaching Professor of Computer Science at the University of Minnesota where she works on methods to explore unknown environments, allocate tasks to robots, and help robots navigate in dense crowds. A Fellow of the Association for the Advancement of Artificial Intelligence (AAAI), Gini is the recipient of numerous awards, including the University's inaugural Distinguished Women's Scholar Award and AAAI's Distinguished Service Award for outstanding contributions to the field of artificial intelligence through sustained service, mentoring colleagues, and increasing participation of women in the field.
Cancellation are subject to a 10 percent processing fee if received five or fewer working days before the program start. Refunds are not granted if you cancel on or after the first day of the program. Notice may be emailed or faxed to: ccapsinfo@umn.edu | 612-624-5359.
See complete list of LearningLife courses.