LL X127
-
Rigoletto
10293313
Description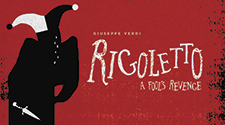 First performed in Venice in 1851, Giuseppe Verdi's Rigoletto was part of a group of three operatic works (along with Il Trovatore and La Traviata) written consecutively. This brilliant operatic trio represents not only the pinnacle of the composer's early creative output, but also the culmination of an era of Italian opera known as bel canto, which made a specialty of spectacular vocal display.

Set in the dissipated court of a fictitious 16th-century duke of Mantua, the story of Rigoletto explores a number of themes that were unusual for the serious operas of Verdi's day. The most significant of these themes involve the suffering of a physically deformed character. It is Rigoletto, the court jester, who finds himself ridiculed and tormented by the duke's retinue. In addition, there are few operas in the standard repertory that give such import to the love of a father for a daughter, in this case, Rigoletto's love for his beautiful daughter Gilda, whose tragic love affair with the duke destroys her life.

Verdi's score is famed for its ingenuity in preserving the bel canto tradition inherited from his predecessors, all the while introducing new modes of expression that transcend and overshadow their capabilities.

Tickets to the Minnesota Opera's production of Rigoletto are not included in tuition. However, registered participants will receive information about a 20 percent discount on tickets to the performance of their choice.

Daniel Freeman, PhD, University of Illinois at Urbana-Champaign, has taught courses in music history at the University of Minnesota and the Smithsonian Institution. Considered the world's leading historian in the field of 18th-century Czech music, Freeman is also a musicologist and pianist. His most recent book is Mozart in Prague (Bearclaw Publishers, 2013).

Offered in cooperation with the Minnesota Opera.
Cancellations are subject to a 10-percent processing fee if received five or fewer working days before the program start. Refunds are not granted if you cancel on or after the first day of the program. Notice may be emailed or faxed to: cceinfo@umn.edu | 612-624-5359.

See complete list of LearningLife courses.