LL X128
-
Woodrow Wilson and the American Internationalist Experiment
10311009
Description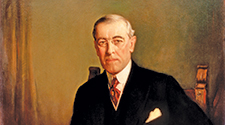 For decades, Woodrow Wilson has been remembered as either a paternalistic liberal or reactionary conservative at home, and as a naïve idealist or cynical imperialist abroad. Historians' harsh judgments of Wilson are understandable. He began his presidency promising a new, cooperative diplomacy and responded to World War I with a plan for international deliberation and collaboration within a League of Nations. Yet under Wilson, interventions in Latin America increased, and a humiliating peace settlement was forced upon Germany.

A generation after Wilson, myopic nationalism hindered the United States's responsible engagement in world affairs, and a second vastly destructive global conflict threatened the survival of democracy worldwide. As a result, modern liberals and conservatives alike consider his ideas a bridge too far—in his day and ours.

In this seminar, we will turn to the historical record to recover Wilson's actual ideas and their implementation as a means to challenge these long-held conclusions. We will explore the possibility that Wilson was not a "Wilsonian," as that term has come to be understood. He did not seek to stamp American-style democracy on other peoples, but to enable the gradual development of a genuinely global system of governance that would maintain justice and facilitate peaceful change. This, contrary to historical tradition, was a goal the American people embraced, and it suggests we consider expanding our own political imaginations today.

LearningLife seminars embrace Socrates's belief in inquiry and exchange; they include both lecture and critical discussion. Tuition includes continental breakfast.

Recommended: Trygve Throntveit, Power Without Victory: Woodrow Wilson and the American Internationalist Experiment (University of Chicago Press, 2017).

Trygve Throntveit, PhD, Harvard University, is a Dean's Fellow for Civic Studies in the College of Education and Human Development at the University of Minnesota. An independent scholar, he writes on the history of American philosophy and social thought, US politics, and foreign relations, and is the author of William James and the Quest for an Ethical Republic (Palgrave Macmillan, 2014) and Power without Victory: Woodrow Wilson and the American Internationalist Experiment (University of Chicago Press, 2017).
Cancellations are subject to a 10 percent processing fee if received five or fewer working days before the program start. Refunds are not granted if you cancel on or after the first day of the program. Notice may be emailed or faxed to: ccapsinfo@umn.edu | 612-624-5359.
See complete list of LearningLife courses.