LL X129
-
To the Extremes: Climate Change and the Wine Industry
10311422
Description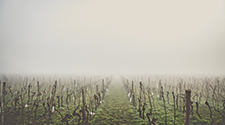 Think that the world of wine isn't changing due to changes in our global climate? Consider these recent headlines: "European Wine Production Hit by Climate Change and Drought"; "California Wine Country Most Recent Victim of California Wildfires"; "Arizona Benefits as Climate Change Alters Wine Production."

One of the key factors in grape and wine production, climate affects the suitability of particular grape varieties to a particular region, as well as the type and quality of the wine produced. With temperatures increasing worldwide and regions being exposed to water deficits more frequently, climate change is affecting viticulture everywhere, having both positive and negative effects on various regions. (In 2017 alone, Europe's wine production dropped to levels unseen since World War II as extreme weather battered top producers Italy, France, Spain, and Germany.)

From extreme weather patterns that have affected increased sugar levels and toughened tannins to smaller grape yields and increased pricing, the world of wine is changing rapidly. Join Sommelier Leslee Miller to taste a variety of vintages and learn how the industry is addressing this pressing and ongoing challenge.

No wine experience is necessary. A $30 fee, payable to the instructor at the first class, will cover the cost of wine for all sessions.

Leslee Miller is a dually certified sommelier through the International Sommelier Guild and the Court of Master Sommeliers. She is a former director to one of Oregon's most prestigious Pinot Noir houses, Archery Summit Winery of the Willamette Valley, and acted as a member to the board of directors for Archery Summit's sister property, Pine Ridge Winery of Napa, California. Miller is owner of the wine-consulting firm Amusée, and cofounder of the national wine club Sip Better.
Cancellations are subject to a 10 percent processing fee if received five or fewer working days before the program start. Refunds are not granted if you cancel on or after the first day of the program. Notice may be emailed or faxed to: ccapsinfo@umn.edu | 612-624-5359.
See complete list of LearningLife courses.