LL X130
-
Illness Memoirs
10312326
Description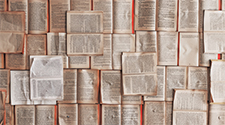 Health is one of the most important aspects our lives, and how we experience health—and illness—is a popular topic in literature, be it poetry or fiction or nonfiction. In the last few decades, memoirs related to illness have been especially popular. Think: Prozac Nation (Elizabeth Wurtzel), The Glass Castle (Jeanette Walls), Intoxicated by My Illness (Anatole Broyard), When Breath Becomes Air (Paul Kalanithi), The Still Point of the Turning World (Emily Rapp)—all bestsellers, many of which have spent multiple years on the New York Times and other notable book lists.

In this one-session course, we will explore how illness is defined in our society and who, exactly, is responsible for these definitions. And because the business of health is a great marketing tool, we'll begin by looking at how illness is depicted in advertising and film before moving on to discuss personal accounts of illness in memoir.

Later, guided writing exercises will help us to create our own definitions of health. Throughout the course, we will pay close attention to how illness can connect us to others or alienate us from those we love most.

Note: This course will have a pre-reading assignment as assigned by the instructor prior to the course start date.

EmmaLee Pallai, MFA, New Mexico State University; BA, Barnard College, is the Education Manager at the Community University Health Care Center, and has worked as a teacher, educator, and writer, throughout the US and abroad. Pallai specializes in using literature and creative writing to address the parts of healthcare education that are often implied, but not discussed.
Cancellations are subject to a 10 percent processing fee if received five or fewer working days before the program start. Refunds are not granted if you cancel on or after the first day of the program. Notice may be emailed or faxed to: ccapsinfo@umn.edu | 612-624-5359.
See complete list of LearningLife courses.