LL X133
-
Minnesota Gardens: New Plants and Landscapes for a Hotter World
10569935
Description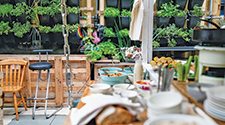 No doubt about it: Minnesotans are experiencing warmer seasons and increasing fluctuations in wet/dry weather events. This affects how we garden. What plants will flourish as our climate continues to change? Luckily for us, the University of Minnesota is a leader in identifying and developing new high-temperature-tolerant plants and methods for growing vegetables and herbs indoors, making this intensive the best three hours you can spend to ensure your garden's success.

Professor John Erwin will discuss the science of heat tolerance and photosynthesis, as well as innovative ways for growing vegetables and herbs in our yards and homes. He'll begin by discussing the current research on heat tolerance, photosynthesis, and adding fungi to soil to increase plant stress tolerance; the effects of changing light and carbon dioxide on plant photosynthesis; and the introduction of cacti and succulents to the Midwest landscape.

He'll then relate how to identify the best annuals for increasingly hot and dry yards, when to sow and plant your garden, and ways to maximize your yield, such as through the use of raised beds, fertilizers, and mulches.

Finally, Erwin will detail how to start plants indoors, as well as indoor growing techniques, like hydroponics, and different types of LED lights, and how to measure the amount of photosynthetic light produced.

John Erwin, Professor, Department of Horticultural Science, University of Minnesota, works with the greenhouse ornamental and vegetable industries in Minnesota, Colorado, Washington, California, Texas, New Jersey, Ohio, and Florida. His research focuses on environmental physiology of plant flowering, photosynthesis, reducing chemical inputs, new crop development, and growing vegetables in greenhouses and homes. Erwin is a Commissioner at Large and Vice-President of the Minneapolis Park and Recreation Board.
Cancellations are subject to a 10 percent processing fee if received five or fewer working days before the program start. Refunds are not granted if you cancel on or after the first day of the program. Notice may be emailed or faxed to: ccapsinfo@umn.edu | 612-624-5359.

See complete list of LearningLife courses.