LL X134
-
Mediterranean Encounters
10572617
Description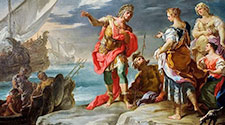 The Mediterranean provides a perfect site for reflection on the origins and limits of the modern nation state; on the demographic, economic, military, and cultural exchanges between societies and states that anticipate and ultimately compose the modern international state system; and on the benefits and challenges of living in close proximity with people of marked linguistic, ethnic, and religious differences.

Scholars have often commented on the historical Mediterranean as an antecedent of a modern, globalized society. Navigable waterways facilitated communication, trade, intellectual and cultural exchange, as well as population transfers between different Mediterranean societies. This also meant that the region was notoriously unstable. The incessant movement of peoples, goods, and ideas across any kind of border created constant threats to ethnic, religious, and political identities.

This course examines the literature of Mediterranean authors who have responded to these challenges with reference to four points of cultural encounter: Ancient Greece and Rome, the Ottoman Empire and the West, the Balkans, and Israel and its Arab neighbors.

Required: Virgil, The Aeneid (Allen Mandelbaum translation, Bantam Classics); Orhan Pamuk, The White Castle (1985); Ismail Kadare, The General of the Dead Army (1963); and A.B. Yehoshua, Mr. Mani (1992).

John Watkins is Distinguished McKnight University Professor in the Department of English at the University of Minnesota, where he also teaches in the Department of History. He is the recipient of numerous awards, including a Guggenheim Fellowship, the Arthur "Red" Motley Exemplary Teaching Award, the University of Minnesota Morse-Alumni Award, and the Ruth Christie Award for Excellence in Teaching.
Cancellations are subject to a 10 percent processing fee if received five or fewer working days before the program start. Refunds are not granted if you cancel on or after the first day of the program. Notice may be emailed or faxed to: ccapsinfo@umn.edu | 612-624-5359.

See complete list of LearningLife courses.