CERT X222
-
HR Certification Test Prep
108358
Description
Participate in the SHRM Learning System with your human resource colleagues to prepare you for SHRM Certified Professional (SHRM-CP) or SHRM Senior Certified Professional (SHRM-SCP) designation.
Outline
Ensure you're prepared to become SHRM-certified with this dynamic and intensive program. Expand and test your knowledge and practical, real-life competencies in areas critical for HR career success. This course combines expert instruction with the SHRM Learning System, so you will learn faster, retain more knowledge, and stay on track for success on the exam.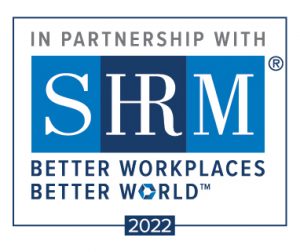 Course Content
We offer the curriculum provided in the SHRM Learning System in partnership with the Society for Human Resource Management (SHRM), which is designed by global subject matter experts and covers the entire SHRM Body of Competency and Knowledge™ (SHRM BoCK™). The course includes application exercises, workbooks, and online resources to develop specific competencies and decision-making skills. Key topics to be covered include:
Relationship Management
Consultation
Leadership & Navigation
Communication
Global & Cultural Effectiveness
Ethical Practice
Business Acumen
Critical Evaluation
Exam Eligibility
To assess your eligibility to take the exam, please visit the SHRM website.
Exam Information
To sit for the SHRM Certified Professional (SHRM-CP) or SHRM Senior Certified Professional (SHRM-SCP), you must complete an application through SHRM's website.
Tests are administered through Prometric; available dates and locations can be found on Prometric's website.
Recertify Your SHRM Credential
HR professionals may maintain their SHRM-CP or SHRM-SCP credential by engaging in professional development activities that relate to the behavioral competencies and HR knowledge identified in the SHRM Body of Competency and Knowledge™. SHRM created three avenues by which SHRM-CP and SHRM-SCP credential holders can earn PDCs: Advance Your Education, Advance Your Organization, and Advance Your Profession.
For more information on how to recertify, refer to the SHRM Recertification Handbook.
Frequently Asked Questions
Why Enroll in Our Course?
If you like face-to-face interaction and learn better as a participant in a structured, real-time environment, then this format is for you. You'll acquire the competencies and knowledge you'll need to effectively perform your job and achieve career success.
Our course is designed to help you learn and retain the material effectively and efficiently by combining the best exam preparation system with expert instruction and peer discussion. The class meets one night a week, or every other weekday in a classroom, up to 12 weeks supplemented by independent reading and online learning resources.
What do course fees include?
A dynamic, interactive classroom environment that enhances learning.
Curriculum covering the SHRM Body of Competency and Knowledge.
Guidance from experienced instructors.
Interaction and networking with other HR professionals.
Classroom expectations and assignments to stay on track.
Online resources, including a comprehensive test bank of exam questions, legislative updates, Webcasts, downloadable e-flashcards, and more.
Testimonials
Registering yourself with a credit card or U of M EFS number?
Select your preferred section and click Add to Cart.
Registering others or via other means (check, invoice, third-party credit card)?
Register using the Other Payment Type Form
Enroll Now - Select a section to enroll in
Required fields are indicated by .