LL X147
-
Western Herbalism: History, Theory, and Practice
11234844
Description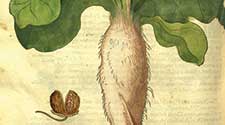 From simple teas to the multibillion-dollar supplement industry, herbal medicine is a major part of many people's daily health and healing. Yet most assume that herbal medicine is an exotic import or an ancient holdover. What are the origins of Western herbalism practice? How and why were these practices used for medicine and dietary purposes?

Through guided presentations and hands-on workshops, this course will follow the history of what we now call Western herbal medicine, from how it was practiced in Europe in the 17th-century to its development in the United States in the 19th-century.

We'll begin at the University's Wangensteen Historical Library of Biology and Medicine, where we will study spectacularly illustrated Renaissance herbals and rare, handwritten recipe books from which we will try our hand at making herbal pomanders.

The following week, we'll visit the University's Native American Medicine Gardens where garden coordinator Cante Suta-Francis Bettelyoun will guide us through the garden's plants and their uses by Minnesota's Indigenous populations. We'll also practice drawing plants in situ as a means to have a personal and lasting record of what we have learned.

During the final session, we'll discuss how plants and practices like the ones we studied moved into the burgeoning US pharmaceutical marketplace during the 18th and 19th centuries to become the bulwark of commonly used medicine. To illustrate this trajectory, we'll examine items from the Wangensteen's book and artifact collection, including rare field guides, official pharmacopeia, patent medicine bottles, and published periodicals. We'll end the session by making an herbal syrup, salve, or oxymel inspired by historic recipes.

Cante Suta-Francis Bettelyoun, Coordinator, Native American Medicine Gardens, College of Food, Agricultural and Natural Resource Sciences, University of Minnesota, is co-creator and facilitator of Buffalo Star People, a nonprofit that facilitates healing circles for adult survivors of childhood abuse.

Margaret (Macey) Flood, MA, University of Minnesota, is a PhD candidate in the History of Science, Technology, and Medicine at the University of Minnesota, where she studies narrative, social identity, and botanical medicine in the 19th- and 20th-century United States.

Lois Hendrickson, MA, University of Denver, is Curator of the Wangensteen Historical Library of Biology and Medicine at the University of Minnesota, where she teaches more than 60 classes and outreach sessions per year to students in a variety of disciplines.

Offered in cooperation with the Wangensteen Historical Library of Biology and Medicine.
Cancellations are subject to a 10 percent processing fee if received five or fewer working days before the program start. Refunds are not granted if you cancel on or after the first day of the program. Notice may be emailed or faxed to: ccapsinfo@umn.edu | 612-624-5359.
See complete list of LearningLife courses
.