LL X150
-
The Unusual Suspects: Obscure Red Wines
12326982
Description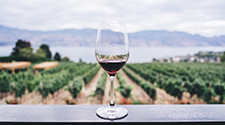 Year after year, the Nielsen reports continue to show Pinot Noir and Cabernet as the varietals that rule our red wine palates. It makes sense, then, that we gravitate toward these reliable standbys, be it out of convenience, price point, or even to avoid the intimidation and uncertainty that can go hand-in-hand with selecting something less familiar. But when we avoid the road less taken, we miss out on the other 9,996 varietals to be discovered!

For instance, if you like Cabernet, you are also likely to enjoy Aglianico, Blaufränkisch, and Plavac Mali. If these grapes (originating in Italia, Austria, and Croatia, respectively) don't ring a bell, then this might be the class for you!

"Anything but the usual suspects" is how instructor Leslee Miller describes this course exploring the lesser-known segments of the red wine world. From red- to black-skinned and light- to full-bodied grapes, you'll learn about a range of obscure varietals and the history, geography, and cultures from which they are produced.

As you sip through this vino venture, you will learn about wine label interpretation and the ins and outs of tasting, as well as expand your knowledge of international wine-growing boundaries.

No wine experience is necessary. A $40 fee, payable to the instructor at the first class, will cover the cost of wine for all sessions.

Leslee Miller is a dually certified sommelier through the International Sommelier Guild and the Court of Master Sommeliers. She is a former director to one of Oregon's most prestigious Pinot Noir houses, Archery Summit Winery of the Willamette Valley, and acted as a member to the board of directors for Archery Summit's sister property, Pine Ridge Winery of Napa, California. Miller is owner of the wine-consulting firm Amusée, and cofounder of the national wine club Sip Better.
Cancellations are subject to a 10-percent processing fee if received five or fewer working days before the program start. Refunds are not granted if you cancel on or after the first day of the program. Notice may be emailed or faxed to: ccapsinfo@umn.edu | 612-624-5359.
See complete list of LearningLife courses
.