LL X148
-
La Rondine
12421013
Description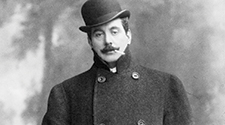 First performed at the Grand Théâtre du Casino in Monte Carlo in 1917, Giacomo Puccini's opera La Rondine (The Swallow) has long been a neglected work and, despite the artistic value of the score, one of the composer's less successful works. "In box office terms, [it] was the poor cousin to the other great hits." That is, until revivals started to blossom in the 21st century.

It seems modern audiences have come to recognize the opera as a worthy companion to Puccini's better-known masterpieces, which have been performed regularly since they were first composed.

The title La Rondine refers to the opera's main character, the Parisian courtesan Magda, who compares herself to a swallow—a bird who migrates toward the sun in search of love. Similar to the Parisian courtesan Violetta in Verdi's La Traviata, Magda falls in love with a handsome young man of means whose relationship with her threatens his family's reputation.

For this reason Magda ends the relationship, but consistent with the light-hearted nature of the libretto and the music (and contrary to similar story lines), she does not die at the end. Rather, the couple simply parts ways.

The vocal music is of a quality commensurate with Puccini's more established works, but La Rondine also contains passages that evoke styles from early 20th-century dance music, including tango, waltz, and fox-trot.

Tickets to the Minnesota Opera's production of La Rondine are not included in tuition. However, registered participants will receive information for a 20-percent discount on tickets to the performance of their choice.

Tuition includes continental breakfast.

Daniel Freeman, PhD, University of Illinois at Urbana-Champaign, has taught courses in music history at the University of Minnesota and the Smithsonian Institution. Considered the world's leading historian in the field of 18th-century Czech music, Freeman is also a musicologist and pianist. His most recent book is Mozart in Prague (Bearclaw Publishers, 2013).
Offered in cooperation with the Minnesota Opera.

Cancellations are subject to a 10 percent processing fee if received five or fewer working days before the program start. Refunds are not granted if you cancel on or after the first day of the program. Notice may be emailed or faxed to: ccapsinfo@umn.edu | 612-624-5359.
See complete list of LearningLife courses
.