LL X157
-
Hate Speech as a Crime Against Humanity: The Nuremberg Trial of Julius Streicher
13168350
Description
See complete list of LearningLife courses.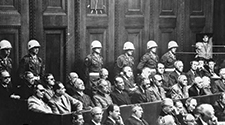 Julius Streicher was among the "major war criminals" brought to trial before the International Military Tribunal (IMT) at Nuremberg in 1945–46. Unlike most of his co-defendants, Streicher never held an official position in the German military or government during the Nazi era. He was however, an ardent member of the Nazi Party, having joined it in 1919 and serving as Party Gauleiter of Nuremberg from 1925 to 1945.

Through public speeches, books, and his privately published newspaper, Der Stu¨rmer, Streicher espoused extreme and virulent anti-Semitism. In its judgment, the IMT found that "[W]eek after week, month after month, [Streicher] incited the German people to active persecution…murder and extermination." The court determined that these activities constituted a crime against humanity and sentenced Streicher to death.

In this course we will examine:
The legal basis of the trial and the charges
The evidence against Streicher (warning: this includes offensive images and words)
Streicher's defense
The case of Nuremberg co-defendant Hans Fritsche, a high official and radio personality in the German Propaganda Ministry, who was acquitted by the IMT
Legal and practical distinctions between Hate Speech and Incitement

George Sheets, PhD, JD, is Professor Emeritus of Classical Studies at the University of Minnesota. He specializes in historical linguistics, Latin literature, and legal history, in particular, Roman law and its legacy in the civil and common law traditions. This course is the third in a series of popular short courses on "Famous Trials" that Professor Sheets has offered through LearningLife.