LL X161
-
The Double Act of Yeats and Beckett: Two Irish Writers Compared
14886048
Description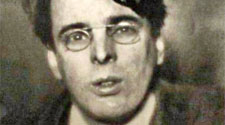 See complete list of LearningLife courses.

Often seen superficially as contrasting figures, the indefatigable William Butler Yeats (1865-1939) and the formidable Samuel Beckett (1906-1989), have much more in common than is typically recognized.

While one could be called a mystic modernist and the other an existential humorist, these two Dublin-born Anglo-Irish authors from Protestant backgrounds are Nobel Laureates in Literature—questing authors who paradoxically made the failure of their aspiration the source of their inspiration. In fact, both writers articulated quests for a unitary and redeeming vision (whether in love, memory, or spiritual transcendence) that was elusive and that dissolved into scorn, satire, parody, or regret.

While one received his Nobel Prize in 1923 as a celebrated Irish nationalist poet just as Ireland emerged into the modern world as a postcolonial state, the other received his Nobel Prize in 1969 as an existential writer in exile from an Ireland that his younger self had scorned for failing to liberate its imagination. Both argue with Ireland and both can never evade it fully.

In this seminar, we'll examine how Yeats and Beckett are a double act whose work mirrors one another's obsessions and cultural themes.

LearningLife seminars embrace Socrates's belief in inquiry and exchange; they include both lecture and critical discussion.

Patrick O'Donnell was born in Galway and grew up in Dublin where he attended University College Dublin. (His PhD thesis: The Irish Roots of the Guthrie Theater.) He currently teaches English at Normandale Community College. Additionally, O'Donnell is the Director of Education at St. Paul's Celtic Junction Arts Center, where he contributes articles and edits its online cultural magazine, The Celtic Junction Arts Review, and teaches classes in Irish literary history, literature, and mythology.
Required fields are indicated by .