LL X162
-
Poetry: A ReIntroduction
14972899
Description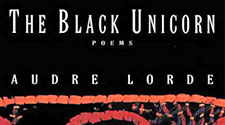 See complete list of LearningLife courses.

It comes from the Greek poetica, which is derived from the verb poiein, which means ''to make.'' It's also one of the most ancient and durable art forms. So why does poetry get such a bad rap?

While it's true that poetry is sometimes taught in a way that makes people feel intimidated (thus revealing fault lines in our education system), it's also true that poetry has long been a reservoir to help people understand and voice their relationships with the natural world and one another. (Fact: children throughout the world speak poetry long before they can speak complete sentences in prose.)

A reintroduction of sorts, this course will guide participants through three highly accessible poetry collections: Mary Oliver's Thirst (April 25), Audre Lorde's The Black Unicorn (May 9), and Tracy Smith's Wade in the Water (May 16).

Each of these authors has a distinctive style and voice and despite differing subject matter, a shared passion for finding just the right words to express what they have to say and to connect with their readers.

As Professor Emerita Toni McNaron discusses specific poems and highlights alternative different ways to approach poetry, she also hopes to "chip away at the resistance and fear associated with little black words made into lines on a page," so that poetry is seen not as something to be explicated, but as something to be enjoyed.

Required: Mary Oliver, Thirst (Beacon Press, 2006), Audre Lorde, The Black Unicorn (W. W. Norton & Company, reissue 1995), Tracy Smith, Wade in the Water (Graywolf Press, 2018).

Toni McNaron is professor emerita of English at the University of Minnesota where she has been the recipient of five awards for outstanding teaching, including the College of Continuing and Professional Studies Distinguished Educator Award.
Required fields are indicated by .