LL X164
-
The Fallen One: Verdi's La Traviata
15022455
Description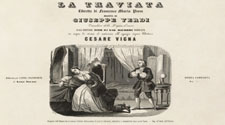 See complete list of LearningLife courses.
First performed in Venice in 1853, Giuseppe Verdi's opera La Traviata (The Fallen One) maintains an unassailable position as one of the best-loved and most frequently performed operas in the world.

Based on La Dame aux Camélias (The Lady of the Camellias or Camille), a novel written by Alexandre Dumas (the younger) just a few years earlier, the opera is notable for conjuring considerable audience sympathy for the sufferings of its main character Violetta, a disreputable Parisian courtesan dying of tuberculosis who achieves moral redemption by renouncing her true love in order to salvage his family's honor.

Part of La Traviata's initial appeal derived from its traditional staging, contemporary with the opera's date of composition, whereas most operas of the era were set in distant times and often difficult for "modern" audiences to relate to.

However, even today, accessibility remains key, and opera novices and connoisseurs alike appreciate the easy-to-follow love story and endless variety of memorable musical ideas and motifs. Of particular note is the significant vocal demand put on the lead female singer, whose extravagant and florid passagework represents the last word in the operatic style known as bel canto.

Tickets to the Minnesota Opera's production of La Traviata are not included in tuition. However, registered participants will receive information for a 20 percent discount on tickets to the performance of their choice.

Daniel Freeman, PhD, University of Illinois at Urbana-Champaign, has taught courses in music history at the University of Minnesota and the Smithsonian Institution. Considered the world's leading historian in the field of 18th-century Czech music, Freeman also is a musicologist and pianist.
Offered in cooperation with the Minnesota Opera.
Required fields are indicated by .