LL X166
-
My Ántonia
15129901
Description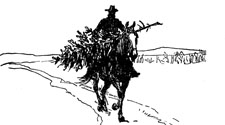 See complete list of LearningLife courses.
In the same year that marked an onslaught of explosive immigration crises and debates, author Willa Cather's My Ántonia turned 100, and ever so quietly, her masterpiece acquired a new timeliness.

As a writer, Cather created characters so vibrant and compelling they seem to leap off the page and into the reader's heart. This is particularly true in My Ántonia, which chronicles the lives of Jim Burden, the narrator of the story, and Ántonia Shimerda, the child of Bohemian immigrants, as they mature, become friends, and struggle to eke out a living and make their American dreams come true on Nebraska's hardscrabble prairie.

Because of Cather's talent for description and dialogue, the novel has long lent itself to adaptation to the stage, and award-winning playwright Allison Moore's moving script for My Ántonia has been reprised by the Illusion Theater.

In conjunction with the play's run, LearningLife is pleased to offer this immersion with Cather scholar Dr. Toni McNaron, who will begin the day with an exploration of the author's life and work, including My Ántonia.

McNaron will then lead a discussion of the character Ántonia as well as her community in Black Hawk—with all its foibles and strengths—focusing on such topics as whether Jim Burden is a reliable narrator, whether "his" Ántonia is the "real" Ántonia, and how Cather so expertly draws us into the vibrant world of Nebraska before it was "settled" fully by farmers and ranchers.

A century has passed, during which Cather has emerged as one of the leading American novelists of her time. Her creative exploration of the American immigrant experience, which is as vital today as when she was writing decades ago, may be one reason why.

Recommended/Strongly encouraged: any edition of Willa Cather, My Ántonia.

Tuition includes lunch. Tickets to The Illusion Theater's production of My Ántonia are not included in tuition. However, registered participants will receive information for discounted tickets to any performance from March 1–13.

Toni McNaron is professor emerita of English at the University of Minnesota where has been the recipient of five awards for outstanding teaching, including the College of Continuing and Professional Studies Distinguished Educator Award.

Offered in cooperation with the Illusion Theater, whose Ivey award-winning
adaptation of My Ántonia returns to the Twin Cities in March after a centennial
anniversary tour throughout Nebraska.
Required fields are indicated by .