LL X167
-
Galileo on Trial in Italy
15179261
Description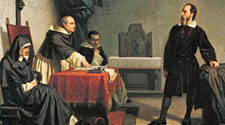 See complete list of LearningLife courses.

Have you ever wondered what Galileo found so fascinating about the Leaning Tower of Pisa and the study of mathematics and science? Or why he was willing to risk his career, his freedom, and even his life for science?

During the Renaissance famous sculptors, artists, and painters used mathematics and science to depict history and religion. Others used their talents to honor those in power.

It was also during this time that scientists began to develop a deeper understanding of the world around them. While exciting, this fostered a clash between religion, art, mathematics, science, and politics.

In this seminar we'll learn how Galileo and his now-renowned contributions to math and science came into conflict with arguably the most powerful institution in Europe and perhaps the world, during post-Renaissance Italy.

And while Rome, the Vatican, and the Church of Santa Maria Sopra Minerva provided a backdrop to the end of Galileo's brilliant career, we'll reflect on what themes and issues surrounding the great 17th-century thinker might be manifested in today's world.

LearningLife seminars embrace Socrates's belief in inquiry and exchange; they include both lecture and critical discussion.

Laura Coffin Koch, PhD, University of Minnesota, is a Morse Alumni Distinguished Teaching Professor of Mathematics in the University's College of Education and Human Development who leads an annual Freshman Seminar Abroad to Italy during which students visit Pisa, Florence, Rome, and re-enact the trial of Galileo through debate and discussion.
Required fields are indicated by .