LL X172
-
Deductive Logic: The Best Stories of Sherlock Holmes
16274325
Description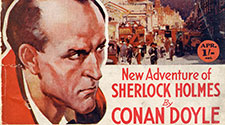 See complete list of LearningLife courses.

Much has been written about the world's most famous consulting detective, and this course will look at the characters, times, and world of both Sherlock Holmes and Doctor John H. Watson as expressed through a selection of the original stories by Sir Arthur Conan Doyle.

The selected stories will be read in tandem with essays from About Sixty: Why Every Sherlock Holmes Story Is the Best. Written by various Sherlockians, each essay makes the case as to why its selected tale is to be considered Conan Doyle's finest. According to editor Christopher Redmond, "What they have written is compelling evidence that any one of the Sherlock Holmes stories can be the best; it's all a matter of what the reader is looking for."

Literary critic Michael Dirda of The Washington Post adds, "The deductive logic brought to bear by the various essayists would certainly earn the admiration of Holmes himself."

It seems that even the author preferred certain stories in the Holmes canon. In a 1927 article for The Strand Magazine, Conan Doyle listed his favorites as … Wait! Are you intrigued? Do you want to know his darlings? There's a class for that and this is it!

Inject some mystery into your summer! Join curator Tim Johnson to learn about all things Sherlock, discuss select stories and essays, tour the exhibition "Dark Places, Wicked Companions, and Strange Experiences," and visit the University's renowned Sherlock Holmes Collection. Magnifying glass included.

Required: Christopher Redmond, editor, About Sixty: Why Every Sherlock Holmes Story Is the Best (Wildside Press, 2016) and The Complete Sherlock Holmes, of which there are numerous formats and editions, both in print and online. A list of possibilities will be sent to students upon registration.

Offered in cooperation with the University Libraries, the Friends of the Sherlock Holmes Collections, and the Norwegian Explorers of Minnesota—all host to "Dark Places, Wicked Companions, and Strange Experiences," an international conference that takes place August 9–11.

Tim Johnson, MATS, North Park Theological Seminary; MA, University of Minnesota,is Curator of Special Collections & Rare Books and the E. W. McDiarmid Curator of the Sherlock Holmes Collections for the University of Minnesota Libraries. In these capacities he oversees the University Libraries main rare book collection and over 150 special collections, including the world's largest gathering of material related to Sherlock Holmes as a cultural icon.
Required fields are indicated by .