LL X174
-
Acrylic Painting Primer
16280461
Description
See complete list of LearningLife courses.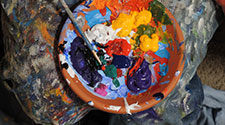 A work of art may be understood as a conductor from the artist's mind
to the viewer's; color and compositional choices dictate how well the
artist's ideas are communicated.
—Sol Lewitt
This immersion is an introduction to the fundamentals of painting with acrylic. As contemporary and historical artists and paintings are introduced for reference and inspiration, you'll explore abstraction, painting from observation, brushwork, value, color mixing, composition, and a variety of techniques—to encourage both experimentation and the discovery of your natural painting style.

Daily studio sessions will begin with demonstrations related to concepts important to the novice painter as well as projects that focus on a range of subjects, including still life, nature, and the human figure.

The majority of time will be devoted to practicing techniques and working on projects, all while receiving individual feedback from the instructor.

Participants must be 18 years of age or older to participate in this course. No previous experience necessary. Participants will be required to purchase or provide their own supplies. A supply list will be sent upon registration. Complete kits are available at Wet Paint, Saint Paul, for $30.

Laura Stack, MFA, University of Kansas, teaches in the Department of Art at the University of Minnesota. She is represented by Circa Gallery and is a member of Rosalux Gallery Collective, and has exhibited her work locally and internationally at venues such as the Minneapolis Institute of Art; A.I.R. Gallery, New York City; the National Galleries of Scotland; and The Royal Scottish Academy, Edinburgh.

Offered in cooperation with the
University's Department of Art and the Regis Center for Art.

Photo: Mike Petrucci
Required fields are indicated by .