LL X028
-
Genomes: Understanding Your Body's Ancestry
1740582
Description
See complete list of LearningLife courses.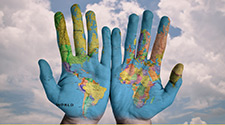 New spring/summer 2019 section is available here.

Who, what, and where are A, C, G, and T, and what in the world do they have to do with your ancestry? Those letters represent our own genome's particular alphabet of chemical subunits whose sequence is fundamental to how we each develop and function as living organisms, "the book" passed from one generation to the next that reveals, precisely, where—and who—you've come from. This unique course will introduce you to, well, you.

To participate fully, students should order the "Ancestry Only" personal genome service from 23andMe no later than November 25, 2018. The service (around $99) will detail a significant fraction of the genetic variations within your genome, and we'll explore these in the second part of the course. It is important to read closely the terms of service and privacy statement at 23andMe prior to registering, and to consider the possible effects of learning such information.

First, we'll explore the connection between our unique human genome sequence and what it reveals about our regions of origin. The instructor will survey how genomes vary between individuals, how to identify variations that trace to particular regions, and how this information may be used to estimate when an ancestor from a region distinct from that of the majority of our ancestors became a family member.

Later, we will focus on identifying and detailing the Neanderthal-derived gene variants that most of us carry, and exploring your ancestors' regions of origin.
The final session will be dedicated to using your genome sequence to illuminate relationships with your contemporary relatives, including how to identify genetic similarity between a parent and child, and what that looks like in contrast to genetic similarities with siblings, uncles, aunts, and/or cousins.

David Matthes is a Morse-Alumni Distinguished Teaching Professor in the Department of Biology Teaching and Learning and the Department of Genetics, Cell Biology and Development at the University of Minnesota. A recipient of the College of Biological Science's Most Engaging Professor Award, the Dagley-Kirkwood Undergraduate Education Award, and in Spring 2018 was awarded the Horace T. Morse-UMN Alumni Association Award for Outstanding Contributions to Undergraduate Education.
Cancellations are subject to a 10 percent processing fee if received five or fewer working days before the program start. Refunds are not granted if you cancel on or after the first day of the program. Notice may be emailed or faxed to: ccapsinfo@umn.edu | 612-624-5359.
See complete list of LearningLife courses.
Required fields are indicated by .