LL X086
-
Encore Transitions: Pathways to Post-Career Life
7517329
Description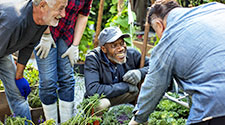 This day-long course includes: Encore Transitions (Dr. Kate Schaefers), Seeking Something More: My Transition Story (Corrie Lapinsky), Internal Compass: Identifying Values, Talents, and Priorities (Barbara Hoese, Bill Lindberg), and Embracing Risk and Regret (Kevin Winge). The course is part of the Encore Transitions series though you need not take the series to enroll.

Encore Transitions
Dr. Kate Schaefers
Longevity gains have created a new life stage, "encore adulthood," which is characterized by novel ways of working and living that places an emphasis on engagement and contribution. Today's generation of 50+ are asking questions about how to make the most of this evolving stage, and exploring pathways to meaning, purpose, and impact. This session will explore shifts that happen as we move from career jobs into opportunities—be they paid or unpaid—for significant, purposeful engagement. The encore movement also will be highlighted, as you explore the important but often overlooked considerations that can make the difference between a transition that fails to inspire, and a transition that is possible, energizing, and meaningful.

Seeking Something More: My Transition Story
Corrie Lapinsky
Several years ago, attorney Corrie Lapinsky realized she was looking for something different, something more. "Something was missing," she says, "in my work and life." And so began a multifaceted journey during which Lapinsky learned to cultivate inner clarity, feed her most authentic self, try new experiences, embrace experimentation, identify the effects of change, and stay open to the myriad possibilities before her. Along the way, she earned a master's degree in educational leadership and became an inaugural fellow of the University of Minnesota Advanced Careers program, which Lapinsky describes as a program "designed to help those of us in the Baby Boomer generation become part of a learning community for one academic year in order to explore what's next in our work and our lives." From realization and exploration, to resistance and encouragement, this presentation is one woman's candid recounting of her still-evolving encore journey.

Internal Compass: Identifying Values, Talents, and Priorities
Barbara Hoese and Bill Lindberg
Over the course of our lives we develop many skills, some that we enjoy using and others that are simply necessary for a certain task or professional responsibility. Similarly, our core values tend to develop and change over time or in tandem with our life circumstance. What if you could use your favored skills and talents in ways that are personally and socially significant? How might this align with your current values? In this session, you'll explore ways to translate your prized talents into meaningful activities that reflect both your values and your priorities.

Embracing Risk and Regret
Kevin Winge
Many of us define a life well-lived as one that is void of regret. Yet, achieving a regret-free life involves a lot of calculated decision-making and therefore a lot of risk: where to go to school, what job(s) to accept, who to make your life with. So what happens when, after a lifetime of risk-taking—of pursuing that elusive regret-free goal—you suddenly realize you still have regrets? In this session, a community activist and leader who has led a risk-infused life, shares how he is coming to terms with unanticipated regret even as he embarks on and embraces his next (risky) transition.

This course is part of a four-course series. Take all four courses ($475) or individual courses ($140). Tuition includes meals. No discounts. All programs subject to change. To learn more, visit Encore Transitions: The Series.

Barbara Hoese, MBC, University of St. Thomas; CPCC, Coaches Training Institute, is a certified life and executive coach and president of Pentecore Coaching. She has given presentations for organizations such as the University of Minnesota, the American Academy of Neurology, TCF Bank, and Medtronic, and led workshops for the Community Makeover Project in conjunction with Blue Zones and AARP.

Corrie Lapinsky, JD, MEd, University of Minnesota, is an attorney and facilitator who works in the area of leadership development. She chairs the Board of the Center for Emerging Leadership and is a facilitator of their Women in Leadership program. Trained as a mediator, Lapinsky has worked with the Conflict Resolution Center of Minneapolis, ASDIC Metamorphosis, and the Minneapolis YWCA. She is one of ten inaugural fellows of the University of Minnesota Advanced Careers program.

Bill Lindberg, JD, University of Minnesota, is an executive coach and consultant who is president of The Ash Grove Group and a volunteer member of the Executive Council of AARP Minnesota. Lindberg received his coach training at the Hudson Institute of Santa Barbara and is recognized by the International Coach Federation as a Master Certified Coach.

Kate Schaefers, Ph.D., Iowa State University; MA, University of Minnesota, is a psychologist, consultant, coach, and the executive director of the University of Minnesota Advanced Careers initiative, which brings people 50+ back to campus to determine what's next in their careers and lives. A volunteer state president for AARP-MN and a founding board member of SHIFT, a Twin Cities nonprofit facilitating career change in the second half of life, Schaefers has a passion for aligning individual talents with meaningful work.

Kevin Winge, MPA, Harvard Kennedy School, BA, University of Minnesota, is a community activist and nonprofit leader whose work focuses on social justice issues. For 17 years, he led two innovative nonprofits that provide nutritious meals to people with chronic illness: Open Arms of Minnesota and Project Open Hand in San Francisco. As executive director of Acacia Global, Winge works to develop leaders in South Africa. He is the author of Never Give Up: Vignettes from Sub-Saharan Africa in the Age of AIDS (Syren, 2006).
Cancellations are subject to a 10 percent processing fee if received five or fewer working days before the program start. Refunds are not granted if you cancel on or after the first day of the program. Notice may be emailed or faxed to: encore@umn.edu | 612-624-5359.
See complete list of Encore Transitions courses
.