LL X086
-
Encore Transitions: Pathways to Post-Career Life
7517329
Description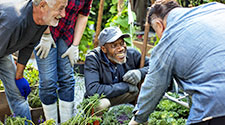 See complete list of Encore Transitions courses.

This day-long course includes: Encore Transitions (Dr. Kate Schaefers), Relationship Evolutions (Dr. Kate Schaefers), Internal Compass: Identifying Values, Talents, and Priorities (Bill Lindberg), and Thrive: The Broaden-and-Build Theory of Positive Emotions (Amy Gunty). The course is part of the Encore Transitions series, though you need not take the series to enroll.

Encore Transitions
Dr. Kate Schaefers
Longevity gains have created a new life stage, "encore adulthood," which is characterized by novel ways of working and living that place an emphasis on engagement and contribution. Today's generation of those who are 50 years and older are asking questions about how to make the most of this evolving stage and exploring pathways to meaning, purpose, and impact. This session will explore the shifts that occur as we move from career jobs into opportunities—be they paid or unpaid—for significant, purposeful engagement. The encore movement also will be highlighted as you explore the important but often overlooked considerations that can make the difference between a transition that fails to inspire, and a transition that is possible, energizing, and meaningful.

Relationship Evolutions
Dr. Kate Schaefers
Retirement affects all areas of life, including relationships. Connections with coworkers are redefined, family roles are recalibrated, and spouses and partners find they must navigate dynamics that are new to their new relationships. This session will look at how to sustain and enhance existing relationships, as well as how to form new relationships during retirement.

Internal Compass: Identifying Values, Talents, and Priorities
Bill Lindberg, JD
Over the course of our lives we develop many skills, some that we enjoy using and others that are simply necessary for a certain task or professional responsibility. Similarly, our core values tend to develop and change over time or in tandem with our life circumstances. What if you could use your favored skills and talents in ways that are personally and socially significant? How might this align with your current values? In this session, you'll explore ways to translate your prized talents into meaningful activities that reflect both your values and your priorities.

Thrive: The Broaden-and-Build Theory of Positive Emotions
Amy Gunty
In the past two decades, Positive Psychology has gathered optimistic steam as a bold new approach to studying (and treating) the variances of the human condition. Significant to this approach: a shift from investigating what makes people struggle to what makes people thrive. Numerous studies related to Dr. Barbara Fredrickson's broaden-and-build theory of positive emotions have validated her hypothesis that positive emotions have the power to broaden mindsets and perceptions and build strengths, which in turn help us to be more creative and flexible in our thoughts and actions. In this session, you'll learn the science behind Fredrickson's theory through hands-on experiments and how to foster the positive emotions that can help you build lasting physical, intellectual, psychological, and social resources necessary for not only survival, but contentment.

This course is part of a four-course series. Take all four courses ($495) or individual courses ($155). Tuition includes breakfast and lunch. No discounts. All programs subject to change. To learn more, visit Encore Transitions: The Series.

Amy Gunty, PhD candidate and researcher, College of Education and Human Development, University of Minnesota, conducts research on enhancing the well-being of children with autism and their families, developing and evaluating prevention and intervention programs for families, and supporting full community integration for people with intellectual and developmental disabilities.

Bill Lindberg, JD, University of Minnesota, is an executive coach and consultant who is president of the Ash Grove Group and a volunteer member of the Executive Council of AARP Minnesota. Lindberg received his coach training at the Hudson Institute of Santa Barbara and is recognized by the International Coach Federation as a Master Certified Coach.

Kate Schaefers, Ph.D., Iowa State University; MA, University of Minnesota, is a psychologist, consultant, coach, and the executive director of the University of Minnesota Advanced Careers initiative, which brings people 50+ back to campus to determine what's next in their careers and lives. As a volunteer state president for AARP-MN and a founding board member of SHIFT (a Twin Cities nonprofit facilitating career change in the second half of life), Schaefers has a passion for aligning individual talents with meaningful work.
Cancellations are subject to a 10 percent processing fee if received five or fewer working days before the program start. Refunds are not granted if you cancel on or after the first day of the program. Notice may be emailed or faxed to: encore@umn.edu | 612-624-5359.
See complete list of Encore Transitions courses
.
Required fields are indicated by .