LL X087
-
Encore Transitions: Financial Planning for Retirement
7518189
Description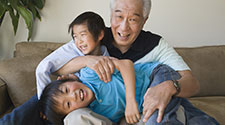 This day-long course includes: Unretirement (Chris Farrell), Making Sense of Social Security, Medicare, and Long-Term Care (Dr. Mark Fischer), Estate Planning: Your Financial Foundation (Samantha Heaton), Retirement Planning Basics (Andrew Thelander), and Estate Planning: Beyond the Basics (Samantha Heaton). The course is part of the Encore Transitions series though you need not take the series to enroll.
Unretirement
The idea that retirement means saying goodbye to colleagues for a final time and embracing full-time leisure for the rest of life is fading fast. Unretirement is a grassroots social movement that rethinks and reimagines the second half of life. This is in part due to a series of broad, mutually reinforcing changes in the economy and society—changes that have made an aging population an economic asset like never before. Better-educated and healthier than previous generations, many Boomers are already working well into the traditional retirement years, embracing and experimenting with part-time work, flexible jobs, contract labor, temp work, and business start-ups. (In 2016, a quarter of all new businesses were started by 55−64 year olds.) In this session, Chris Farrell shares how and why society will be richer, and living standards higher, if we tap into the knowledge and abilities of older Americans who can and want to work.

Making Sense of Social Security, Medicare, and Long-Term Care
What should you know about Social Security? How do Medicare and other health plans help you to manage your health and health care risks in retirement? What is long­term care, and how do you prevent it from depleting your financial resources? Knowing what questions to ask will help to ensure you find the best answers for your unique situation.

During this session, you also will have the opportunity to ask questions that are specific to your unique financial situation. Topics include how to maximize and integrate Social Security into your retirement income and budget planning (including spousal and survivor benefits, if applicable), as well as how to use required minimum distribution planning to minimize tax on your Social Security benefits.

Estate Planning: Your Financial Foundation
Estate Planning means making sure your legal affairs are in order and a good estate plan reflects your goals and values. It is designed to ensure your wishes are carried out, as well as to avoid family conflicts and unnecessary costs. Planning your estate can bring peace of mind, and it's much simpler than most people think. In this session, you'll learn about powers of attorney, health care directives, living trusts, probate, and how to stay clear of common errors that are likely to cause problems in the future.

Breakout sessions
These breakout sessions provide the opportunity to ask questions that are specific to your unique financial situation.

Session One: Retirement Planning Basics
This session is for those who do not have a retirement plan or who would like to dig deeper into how and where to begin. Topics include: what to do with assets such as 401(k), 457, 403(b), or Thrift Savings Plans; how to maximize reliable income sources such as pensions; why retirement fund withdrawal rates matter; and how to choose a financial advisor. You'll also delve into retirement tax planning strategies, charitable giving considerations, and health care decisions that should be made prior to retirement.

Session Two: Estate Planning: Beyond the Basics
This session is for those who have more extensive experience with estate planning and/or are interested in more advanced topics, including options to shelter assets from estate tax, options for lifetime gifting to beneficiaries, and options for charitable giving. The session also will detail how to coordinate a revocable trust with assets and how to match beneficiary designations with an estate plan. Special consideration will be given to non-Minnesota assets and residency, as well as to second marriage and cohabitation without marriage scenarios.

This course is part of a four-course series. Take all four courses ($475) or individual courses ($140). Tuition includes meals. No discounts. All programs subject to change. To learn more, visit Encore Transitions: The Series.

Chris Farrell, MS, The London School of Economics, is senior economics contributor of American Public Media's nationally syndicated public radio program Marketplace. He also is an economics commentator for Minnesota Public Radio and host of its series Conversations on the Creative Economy. An award-winning journalist, Farrell is a columnist for Next Avenue and the Star Tribune. His most recent book is Unretirement: How Baby Boomers Are Changing the Way We Think About Work, Community and the Good Life (Bloomsbury Press, 2014).

Mark Fischer, PhD, University of California, Berkeley; MBA, University of Minnesota, is a fee-based Certified Financial Planner whose career spans more than 30 years. Recognized by Mpls.St. Paul Magazine as one of the Twin Cities' Five Star Wealth Managers, he is a contributing author of Mapping Your Retirement (MYR Publications, 2007) and coauthor of the forthcoming Serious About Retiring.

Samantha L. Heaton, JD, Harvard Law School, is an attorney who practices in the areas of estate and gift planning, and probate and trust administration. She has extensive experience working with people to craft plans tailored to each family's circumstances and goals. Heaton works at Winthrop & Weinstine, P.A.

Andrew Thelander, MBA, Augsburg University, is a senior vice president and financial advisor at Wealth Enhancement Group. A Certified Financial Planner, Retirement Income Certified Professional, and Chartered Advisor in Philanthropy, he has been recognized five times by Mpls.St. Paul and Twin Cities Business magazines as one of the Twin Cities' Five Star Wealth Managers. Thelander also teaches at Century College and serves on the philanthropy committee at Gillette Children's Specialty Healthcare.
Cancellations are subject to a 10 percent processing fee if received five or fewer working days before the program start. Refunds are not granted if you cancel on or after the first day of the program. Notice may be emailed or faxed to: encore@umn.edu | 612-624-5359.
See complete list of Encore Transitions courses
.