LL X087
-
Encore Transitions: Financial Planning for Retirement
7518189
Description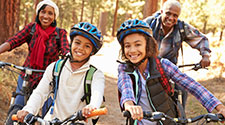 See complete list of Encore Transitions courses.

This day-long course includes: Unretirement (Chris Farrell), Social Security and Medicare Primer (Rhonda Whitenack), Estate Planning: Your Financial Foundation (Karen Hansen), and Retirement Planning Basics (Andrew Thelander). The course is part of the four-course Encore Transitions series, though you need not take the entire series to enroll.
Unretirement
Chris Farrell
The idea that retirement means saying goodbye to colleagues for a final time and embracing full-time leisure for the rest of life is fading fast. Unretirement is a grassroots social movement that rethinks and reimagines the second half of life. This is in part due to a series of broad, mutually reinforcing changes in the economy and society—changes that have made an aging population an economic asset like never before. Better-educated and healthier than previous generations, many Boomers are already working well into the traditional retirement years, embracing and experimenting with part-time work, flexible jobs, contract labor, temp work, and business start-ups. (In 2016, a quarter of all new businesses were started by 55−64 year olds.) In this session, Chris Farrell shares how and why society will be richer, and living standards higher, if we tap into the knowledge and abilities of older Americans who can and want to work.

Social Security and Medicare Primer
Rhonda Whitenack
Deciphering the worlds of Social Security and Medicare can be confounding for many. How does Social Security determine the amount of my benefit? How does my retirement age affect my benefit amount? How much can I earn from working while receiving Social Security? How do I determine my survivor and/or spousal benefits? What does Medicare cover? What are the differences between Medicare Parts A, B, C, and D? From DRC to PIA and ABN to SHIP, this session will help you navigate the Social Security and Medicare systems and make use of benefit planners, calculators, and a variety of online services.

Estate Planning: Your Financial Foundation
Karen Hansen, JD
Estate planning means making sure your legal affairs are in order, and a good estate plan reflects your goals and values. It is designed to ensure your wishes are carried out, as well as to avoid family conflicts and unnecessary costs. Planning your estate can bring peace of mind, and it's much simpler than most people think. In this session, you'll learn about powers of attorney, health care directives, living trusts, and probate, and how to stay clear of common errors that are likely to cause problems in the future.

Retirement Planning Basics
Andrew Thelander
This session is for those who do not have a retirement plan or who would like to dig deeper into how and where to begin. Topics include: what to do with assets such as 401(k), 457, 403(b), or Thrift Savings Plans; how to maximize reliable income sources such as pensions; why retirement fund withdrawal rates matter; and how to choose a financial advisor. You'll also delve into retirement tax planning strategies, charitable giving considerations, and health care decisions that should be made prior to retirement.

This course is part of a four-course series. Take all four courses ($495) or individual courses ($155). Tuition includes breakfast and lunch. No discounts. All programs subject to change. To learn more, visit Encore Transitions: The Series.

Chris Farrell, MS, The London School of Economics, is senior economics contributor of American Public Media's nationally syndicated public radio program Marketplace. He also is an economics commentator for Minnesota Public Radio and host of its series Conversations on the Creative Economy. An award-winning journalist, Farrell is a columnist for Next Avenue and the Star Tribune. His most recent books are Unretirement: How Baby Boomers Are Changing the Way We Think About Work, Community and the Good Life (Bloomsbury Press, 2014) and Purpose and a Paycheck (HarperCollins Leadership, 2019).

Karen Ciegler Hansen, JD, University of Illinois College of Law, is an attorney who practices in the areas of estate planning, and probate and trust administration. She has worked with thousands of families during her career and crafted plans to fit each of their situations and goals. A shareholder of Winthrop & Weinstine, PA, Hansen speaks and writes frequently about estate planning and administration.

Andrew Thelander, MBA, Augsburg University, is a senior vice president and financial advisor at Wealth Enhancement Group. A Certified Financial Planner, Retirement Income Certified Professional, and Chartered Advisor in Philanthropy, he has been recognized six times by Mpls St. Paul and Twin Cities Business magazines as one of the Twin Cities' Five Star Wealth Managers. Thelander also teaches at Century College, and Minneapolis Community and Technical College, and is a University of Minnesota Extension Master Gardener volunteer.

Rhonda Whitenack is a Social Security Administration Public Relations and Training representative who serves the State of Minnesota. From AARP to the PEW Foundation, she has presented to numerous groups and trained employees at such companies as Target, Toro, Wells Fargo, and Medtronic. Her career highlight: a Medicare training session for President George W. Bush. Whitenack has been recognized for her work with Minnesota's Latino and Native American communities, and by the Minnesota Board on Aging and the Minnesota Governor's Office. She is currently involved in a project working with disabled Veterans who are being treated at the Minneapolis VA hospital.
Cancellations are subject to a 10 percent processing fee if received five or fewer working days before the program start. Refunds are not granted if you cancel on or after the first day of the program. Notice may be emailed or faxed to: encore@umn.edu | 612-624-5359.
See complete list of Encore Transitions courses
.
Required fields are indicated by .