LL X088
-
Encore Transitions: Aging Well, Being Well
7519178
Description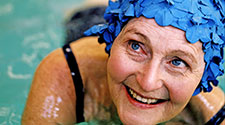 This day-long course includes Thrive: The Broaden-and-Build Theory of Positive Emotions (Amy Gunty), Resilience (Dr. Henry Emmons), The Agile Brain Game (Dennis Curley, Michelle Hutchison, Dr. Jim Robinson, Joshua Will), and Promoting Independence in Housing and Community (Dr. Marilyn Bruin). The course is part of the Encore Transitions series though you need not take the series to enroll.

Thrive: The Broaden-and-Build Theory of Positive Emotions
Amy Gunty
In the past two decades, Positive Psychology has gathered optimistic steam as a bold new approach to studying (and treating) the variances of the human condition. Significant to this approach: a shift from investigating what makes people struggle to what makes people thrive. Numerous studies related to Dr. Barbara Fredrickson's broaden-and-build theory of positive emotions have validated her hypothesis: that positive emotions have the power to broaden mindsets and perceptions and build strengths, which in turn help us to be more creative and flexible in our thoughts and actions. In this session, you'll learn the science behind Fredrickson's theory through hands-on experiments and how to foster the positive emotions that can help you build lasting physical, intellectual, psychological, and social resources necessary for not only survival, but contentment.

Resilience
Dr. Henry Emmons
How do life balance, meaningful connections, and joy contribute to resilience? In this session, you'll survey the elements of a resilient life and discover how resilience helps us to stay whole and bounce back from life's predictable changes and unexpected challenges.

The Agile Brain Game
Dennis Curley, Michelle Hutchison, Dr. Jim Robinson, Joshua Will
A post-lunch invigoration session for your brain! Learn how to keep your brain sharp, agile, and fresh during this live interactive game show. The action will put your sides in stitches and draw tears of laughter to your eyes as you and your fellow participants compete in three teams to see who knows the most about purposeful living and a growth-focused lifestyle!

The host and three quick-witted team captains will lead you through a series of games designed to entertain and educate, including "A or B" and "Celebrity Rhyme Time," as well as classic games in the style of "Password" and "Family Feud." There will be plenty of opportunity to participate one-on-one or in a larger group, and fun is the name of the game. We promise you'll get a fresh outlook on making a joyous transition into a new phase of life!

Promoting Independence in Housing and Community
Dr. Marilyn Bruin
Does your retirement plan include a housing plan? Did you know that good supportive design in housing and neighborhoods can help residents promote independence, accessibility, and safety across their lifespans? Conversely, poor housing and community design can create life-changing barriers for residents. In order to successfully plan housing for your encore years, you need to understand how aging and design intersect and interact to support your independence.

Underpinned by the philosophy that design, public policy, and community programming should support quality-of-life basics, this session will explore how housing design, neighborhood amenities, and social engagement are key to determining that quality.

You'll discuss (and view) innovative housing options, learn how to plan for affordable, accessible, and supportive living arrangements, and develop strategies that advocate for housing and community development based on user needs. In addition, you'll increase your awareness of the ways to advocate for choice in living arrangements.

This course is part of a four-course series. Take all four courses ($475) or individual courses ($140). Tuition includes meals. No discounts. All programs subject to change. To learn more, visit Encore Transitions: The Series.

Dr. Marilyn J. Bruin, PhD, is a professor in the department of Design, Housing, and Apparel in the College of Design at the University of Minnesota, where her teaching, research, and outreach focus on households at risk for maintaining independent, stable, adequate, and affordable housing. A participant in Hennepin County's Aging Initiative, Bruin also co-curated the exhibition Smart House, Livable Community, Your Future at the Goldstein Museum of Design. She is the recipient of numerous accolades for her work, most recently the College of Design's Outstanding Outreach Award and the University's prestigious Outstanding Community Service Award.

Dennis Curley, BA, Northwestern University, is co-founder and executive producer of Table Salt Productions. He has composed music for Vampires! Horror!, Love After Hours, and two shows in the Church Basement Ladies franchise.

Dr. Henry Emmons, MD, University of Iowa, is a psychiatrist who practices with Partners in Resilience and the developer of Resilience Training, an integrative program that treats depression. His books include Staying Sharp: 9 Keys for a Youthful Brain through Modern Science and Ageless Wisdom (with Dr. David Alter; Touchstone, 2015), The Chemistry of Joy Workbook (New Harbinger, 2012), The Chemistry of Calm (Touchstone, 2010), and The Chemistry of Joy (Fireside, 2005).

Amy Gunty, PhD candidate, and researcher, Institute on Community Integration, College of Education and Human Development, University of Minnesota, works with military families, prevention and intervention programs for families, and community integration efforts for people with intellectual and developmental disabilities.

Michelle Hutchison is a comedian and actor who has appeared in feature films such as Fargo, My Best Friend's Wedding, and the independent films Factotum, Into Temptation, Nobody, Thin Ice, and Public Domain. She is a regular in the Netflix comedy Lady Dynamite.

Dr. Jim Robinson, PhD, University of Southern California, is an alumnus of The Brave New Workshop, the Disney Cruise Line, and a co-founder of Table Salt Productions. He co-wrote Psych 101 based on his 23 years of teaching psychology at St. Catherine University and the University of St. Thomas.

Joshua Will is an alumnus of Dudley Riggs' Brave New Workshop. He has written two screenplays, more than 20 stage productions, and his first book, The Alternative Animal Alphabet, was published in 2017. Will is the director of entertainment for the St. Paul Saints.
Cancellations are subject to a 10 percent processing fee if received five or fewer working days before the program start. Refunds are not granted if you cancel on or after the first day of the program. Notice may be emailed or faxed to: encore@umn.edu | 612-624-5359.
See complete list of Encore Transitions courses
.