LL X088
-
Encore Transitions: Aging Well, Being Well
7519178
Description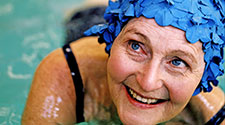 See complete list of Encore Transitions courses.

This day-long course includes: Longevity (Joel Spoonheim), Crossing Thresholds: Changes, Losses, Resilience, and Hope (Ted Bowman), Building Community and Finding Adventure One Cup of Coffee at a Time (Dorothy Sinha), Informed Aging and Empowered Caregiving (Diane Graham-Raff). The course is part of the four-course Encore Transitions series, though you need not take the entire series to enroll.

Longevity
Joel Spoonheim
In the second half of life, many of us begin to consider how we might stretch or lengthen our lives. And while genetics does play a role, it's not the only factor to influence health and longevity. Recent research points to how genes may be altered by how we live, and how we live is affected by where we spend time and with whom. Maintaining well-being means modifying one's environment in order to increase physical activity, developing supportive relationships, and nurturing a significant sense of life purpose. In this session, you'll explore lessons from communities designed to nurture well-being, and learn practical steps you can take to live more fully.

Crossing Thresholds: Changes, Losses, Resilience, and Hope
Ted Bowman
As we age from midlife on, we cross any number of thresholds, sometimes called "thin" or "hinge" places between one reality and another. Changes in work, health, daily routines, and the loss of friends and family members are but a few of the transitions to be faced. Adapting respectfully and honestly to this continuum requires courage, self-awareness, empathy, and compassion. Doing it well (resiliency) requires care of self, colleagues, and loved ones as the thresholds occur. In this session, you'll learn about the perspectives and tools that can enable you to cross life's thresholds with resilience, positivity, and hope.

Building Community and Finding Adventure One Cup of Coffee at a Time
Dorothy Sinha
As the proverb goes, necessity is the mother of invention. In this session, recent retiree and Encore Transitions alumna Dorothy Sinha shares the story of how a simple desire to expand her circle turned into something she never could have imagined. Innovative and inspiring, Sinha's 64 Cups of Coffee project is an illustration of what can happen when a wealth of enthusiasm is met with a willingness to take risks and trust in the process. Magical!

Informed Aging and Empowered Caregiving
Diane Graham-Raff
Knowledge is power and learning how to access the information essential to making informed choices is vital to aging and healthy caregiving. Whether you are currently caring for someone who needs daily assistance or want to explore services to ensure your future independence, there are myriad resources available to help you maintain control over your own lifestyle. This session will provide a foundation of the services and planning tools available to support and plan for informed aging and empowered caregiving.

This course is part of a four-course series. Take all four courses ($495) or individual courses ($155). Tuition includes breakfast and lunch. No discounts. All programs subject to change. To learn more, visit Encore Transitions: The Series.

Ted Bowman is an educator and consultant who specializes in change and transition, whether it occurs in families, organizations, or communities. A former adjunct faculty member of the University of Minnesota, the University of Saint Thomas, and United Theological Seminary of the Twin Cities, Bowman has been a speaker and trainer for organizations, nationally and internationally, for more than 40 years. His publications, Loss of Dreams: A Special Kind of Grief and Finding Hope When Dreams Have Shattered, are used widely in the grief-care profession.

Diane Graham-Raff, MDiv, United Theological Seminary of the Twin Cities, brings more than 20 years of nonprofit management and aging services experience to her current position as ElderCare Development Partnership Developer at the Metropolitan Area Agency on Aging. Previously she directed the Neighborhood Network for Seniors, a community-based service provider that empowers older adults to maintain independence, and led the state-wide Network of Living at Home programs. In addition, she is an experienced family caregiver.

Dorothy Sinha recently retired after working 33 years as a Medical Librarian at the Minneapolis VA Medical Center. She is a certified Laughter Yoga leader and a Master recycler/composter with Hennepin County, who enjoys domestic and international travel and makes annual trips to India with her husband, Akhouri. Since retiring, Sinha has become a standardized patient/client at the University of Minnesota and a frequent participant in Twin Cities community theater productions. Filled with zest and curiosity, she's always looking for new adventures and places to visit with friends.

Joel Spoonheim, MUPL, University of Minnesota, is the director of health promotion for HealthPartners, where he is responsible for product innovations and operations. He has worked for health care companies, city governments, and nonprofits, and is a former founding staff member and executive director of Healthways Blue Zones Project, a program that promotes healthy environments.
Cancellations are subject to a 10 percent processing fee if received five or fewer working days before the program start. Refunds are not granted if you cancel on or after the first day of the program. Notice may be emailed or faxed to: encore@umn.edu | 612-624-5359.
See complete list of Encore Transitions courses
.
Required fields are indicated by .