LL X101
-
Conservation and Controversy: The Wolf in Minnesota
7937883
Description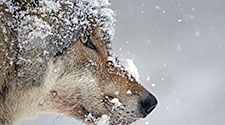 According to the International Wolf Center, "Wolves spark intense emotions. They are revered as symbols of wildness, worshipped as the spirits of nature, idolized as the ultimate social animals. Yet fear and hatred of wolves, or at least of the ideals they symbolize, still runs deep."

No doubt about it. The relationship between wolves and humans is complicated and the controversies related to conservation efforts, including in Minnesota, seem to be forever in the news.

As the founder and vice-chair of the Center, Dr. L. David "Wolfman" Mech has spent his career trying to bridge human misunderstanding of wolves by sharing his knowledge of wolf social behavior (predatory habits, movements, travels, dispersal, pack formation, family life, survival, mortality) and wolf natural history.

Cited by many as the most highly regarded wolf researcher in the world, Mech also focuses on relaying the wolf's relationship to wild lands as well as wolf-human interaction.

In this course, you'll hear about the wolf's placement on the Federal Endangered Species List, its eventual recovery in several states, its "de-listing," and the subsequent state management activities. Mech also will discuss public hunting and trapping, and livestock depredation control, all with an eye toward surveying the future of the wolf in Minnesota.

Recommended: L. David Mech, Douglas W. Smith, and Daniel R. MacNulty, Wolves on the Hunt: Behavior of Wolves Hunting Wild Prey (2015) and L. David Mech & Luigi Boitani, Wolves: Behavior, Ecology, and Conservation (2003), both from University of Chicago Press.

L. David Mech, PhD, Purdue University, is an adjunct professor at the University of Minnesota and a senior research scientist with the US Geological Survey. The former chair of the International Union for Conservation of Nature's Wolf Specialist Group and the founder and vice chair of the International Wolf Center, Mech received the prestigious Wildlife Society's Aldo Leopold Award for Distinguished Service to Wildlife Conservation in 1993.
Cancellations are subject to a 10-percent processing fee if received five or fewer working days before the program start. Refunds are not granted if you cancel on or after the first day of the program. Notice may be emailed or faxed to: cceinfo@umn.edu | 612-624-5359.