LL X103
-
An Artful Life: Drawing for Beginners
7938687
Description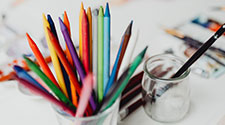 See complete list of LearningLife courses.

As children, drawing was as natural as breathing: we could spend hours building magnificent worlds. Some of us continued to draw, but others let the artistic urge fall to the wayside. Why did we intentionally let slip something so healthy for our hearts, minds, and souls? Let's get it back!

In this immersive mini-camp, you'll heighten your visual awareness by using keen observational skills that help you draw what is seen rather than its symbol. A variety of techniques and media will be introduced, both to encourage experimentation and to help you find your natural drawing style. You'll learn different ways of observing and representing objects/people through quick gesture sketches and long-study drawings.

Projects will focus on a variety of subject matter (still life, landscape, the human figure) and introduce drawing concepts sequentially—each new concept or technique building on the previous. Mornings will begin with lectures and demonstrations related to concepts important to the novice drawer, including mark-making, line quality, media experimentation, and observation of shape, angle, and proportion. Over time, you'll hone your hand-eye coordination and become attuned to your own visual sense and style.

Participants must be 18 years of age or older to participate in this course. No previous drawing experience necessary. Participants will be required to purchase and/or provide their own supplies. A supply list will be sent upon registration. Complete kits are available at Wet Paint, Saint Paul for $30.

Laura Stack, MFA, University of Kansas, is a Minneapolis artist who teaches in the Department of Art at the University of Minnesota. She is represented by Circa Gallery, is a member of Rosalux Gallery Collective, and has exhibited her work locally, nationally and internationally.|

Offered in cooperation with the
University's Department of Art and the Regis Center for Art.
Cancellations are subject to a 10 percent processing fee if received five or fewer working days before the program start. Refunds are not granted if you cancel on or after the first day of the program. Notice may be emailed or faxed to: ccapsinfo@umn.edu | 612-624-5359.
See complete list of LearningLife courses
.
Required fields are indicated by .