LL X109
-
Birding by Ear
8643485
Description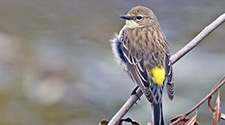 How do avid birders find so many birds? Half the battle is being able to identify birdsongs—not only what type of bird is singing, but what specific calls mean. This lively immersion will have you out in gorgeous fall colors while we watch for Yellow-rumped Warblers, Fox Sparrows, and Sharp-shinned Hawks. We'll cover how to track bird migration and how their songs are different in the fall compared to the spring. We might even hear young American Robins and White-crowned Sparrows practicing how to sing their familiar calls. And if we are really lucky, we might find a roosting owl.

Led by Sharon "Birdchick" Stiteler, this nature-filled, multisensory experience will begin at the Richardson Nature Center located within Hyland Lake Park Reserve. After a morning full of birds and a brief presentation that will boost your birdsong knowledge, there will be lunch at a nearby restaurant. The group will reconvene at the Minnesota Valley National Wildlife Refuge Visitor Center where the day will conclude on the trails, where you can practice using the tools you've learned to identify the bird calls you have added to your repertoire.

Participants should be prepared to walk and stand a great deal. Tuition includes lunch; transportation not included. Itinerary subject to change.

Sharon "Birdchick" Stiteler works as a National Park Ranger for the Mississippi National River and Recreation Area and travels the world as a speaker, bird field technician, and bird-bander. A frequent consultant for the media, including Outdoor News Radio, All Things Considered, and NBC Nightly News, Stiteler is the author of City Birds/Country Birds (Adventure Publications, 2008) and Disapproving Rabbits (Harper, 2007).
Cancellations are subject to a 10-percent processing fee if received five or fewer working days before the program start. Refunds are not granted if you cancel on or after the first day of the program. Notice may be emailed or faxed to: cceinfo@umn.edu | 612-624-5359.

See complete list of LearningLife courses.