LL X111
-
Art Cities of the Netherlands
8761426
Description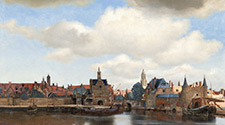 Imagination is an instrument of survival.
— Rogier van der Weyden

This four-session course brings together the visual splendors of the past and the vibrant, current cosmopolitan environments of Dutch and Belgian cities. The focus: world-class museums and their collections of Netherlandish art.

Beginning with Northern Renaissance masterpieces by Flemish artists like Jan van Eyck, Hans Memling, and Rogier van der Weyden, participants will explore how political, economic, and religious developments gave rise to the Dutch "Golden Age" of the 17th century. We'll see how the lives of flourishing cities like Delft, Haarlem, and Amsterdam were reflected in the works of Jan Vermeer, Frans Hals, and Rembrandt van Rijn.

While investigating Dutch and Belgian cities as modern tourist destinations, we'll look at some of the museums that specialize in historic and contemporary visual culture, including the Mauritshuis in the Hague, the Boijmans Van Beuningen in Rotterdam, and the mighty Rijksmuseum in Amsterdam. We'll also learn about more specialized museums, such as the Plantin-Moretus Museum of printing in Antwerp and the Vincent van Gogh Museum, designed by artist Gerrit Rietveld, in Amsterdam.

Art historian Allan Kohl has taught courses on ancient, medieval, and Renaissance art at the Minneapolis College of Art and Design, where he is the visual resources librarian. His previous LearningLife courses include historical celebrations of baseball and American popular culture, the art of the Civil War, and the art and design history of New York, Florence, Venice, Rome, Paris, London, Athens, Vienna, Istanbul, and other cities.
Cancellations are subject to a 10-percent processing fee if received five or fewer working days before the program start. Refunds are not granted if you cancel on or after the first day of the program. Notice may be emailed or faxed to: cceinfo@umn.edu | 612-624-5359.

See complete list of LearningLife courses.