LL X110
-
Icy Winds and Hot Blood: The Miracle of Icelandic Sagas
8761879
Description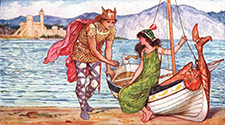 Iceland? Volcanoes, geysers, and lava fields? Yes, but its glory rests no less on its sagas, that is, tales, recorded in the 13th century and translated into all the languages of the civilized world. They deal with the settlement of the hitherto uninhabited island, the uneasy relations between the colony and its old motherland (Norway), Viking raids, battles, bitter jealousy, bloody feuds, and the conversion of the country to Christianity. The Viking discovery of America is another celebrated plot. Although written by Christians, the stories are full of echoes of pagan beliefs and of encounters with ghosts, witches, and soothsayers.

Before coming to the course, try to read at least one famous saga: of Njal, Egil, or Grettir. Its stark realism will captivate you at once.

Anatoly Liberman, PhD, is a professor in the Department of German, Scandinavian, and Dutch at the University of Minnesota where he teaches courses in linguistics, etymology, and folklore. An internationally renowned scholar of word origins, Liberman discusses the topic regularly on MPR and is the author of Word Origins and How We Know Them: Etymology for Everyone (Oxford University Press, 2005). The language and literature of the medieval North are among his primary teaching and research areas.
Cancellations are subject to a 10-percent processing fee if received five or fewer working days before the program start. Refunds are not granted if you cancel on or after the first day of the program. Notice may be emailed or faxed to: cceinfo@umn.edu | 612-624-5359.
See complete list of LearningLife courses.