LL X112
-
The Crisis of Antibiotic Resistance
8762317
Description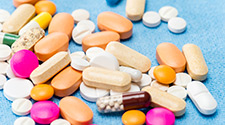 While practicing medicine in the 1980s, Dr. Paul Haller carried a pager and regularly prescribed a potent drug called penicillin. Today, he carries a smart phone that allows him to track the ever-increasing resistance pattern of penicillin and other antibiotics.

The typical American consumes antibiotics once per year. These same drugs are given to our pets and livestock, yet every dose prescribed makes the drugs less effective for our friend or neighbor who may need them next week. For better and for worse, antibiotics have changed the field of medicine.

But how did we move from what was once a revered drug that could successfully treat fearsome diseases to what is now a public health crisis? (In the US alone, 23,000 people die annually from antibiotic-resistant germs).

Because of its prolific use and misuse, the number of bacteria that have become immune to antibiotics has grown. Many of these germs were initially found in livestock that were fed antibiotics to promote growth. These resistant bugs then spread from animals to humans, and with the advent of increased international travel, what was once a problem in rural China quickly became an issue in suburban California.

From the highs and lows of antibiotic use in agricultural and medicine, to the promises and pitfalls of prospective new drugs and those who control their development, this seminar traces the long arc of the current antibiotic resistance crisis and offers thoughtful ideas for its resolution.

LearningLife seminars embrace Socrates's belief in inquiry and exchange; they include both lecture and critical discussion. Tuition includes continental breakfast.

Paul Haller, MD, University of Minnesota, has specialized in internal and emergency medicine for more than three decades, and has worked in the Twin Cities, Africa, Haiti, and Central America. He is currently associated with Regions Hospital.
Cancellations are subject to a 10-percent processing fee if received five or fewer working days before the program start. Refunds are not granted if you cancel on or after the first day of the program. Notice may be emailed or faxed to: cceinfo@umn.edu | 612-624-5359.
See complete list of LearningLife courses.