LL X113
-
Of Courage and Controversy: Women and the Nobel Peace Prize
8762662
Description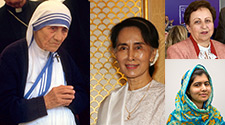 In 1905, peace activist Baroness Bertha von Suttner became the first woman to receive the Nobel Peace Prize. It would be another 26 years before Jane Addams became the second woman to be so honored. To date, only 16 of 97 prize recipients have been women, yet four of the ten "most popular" laureates are female. Women, it seems, are rising to the Nobel fore, and their ability to inspire courageous and innovative action has cut across age groups, decades, nationalities, and borders.

This course takes an in-depth look at four laureates: Mother Teresa (India), Aung San Suu Kyi (Burma), Shirin Ebadi (Iran), and Malala Yousafzai (Pakistan).

Through readings, lectures, screenings, and discussions, participants will study the lives of these women with an eye toward their leadership. What have they accomplished and at what price? How have they dealt with success, failure, inner conflict, ethical quandary, social challenge, and pointed criticism?

Significantly, what characterizes the times in which they live(d) and how has history shaped them? What unites them as leaders, communicators, and advocates for human progress? And what, if anything, can we apply to our own lives?

Required:
Kathryn Spink, Mother Teresa: An Authorized Biography (HarperOne, 2011);
Rena Pederson, The Burma Spring (Pegasus Books, 2015);
Shirin Ebadi, Iran Awakening (Random House, 2007); and
Malala Yousafzai, I Am Malala (Little, Brown and Co., 2013).

Maureen Reed, MD, University of Minnesota, is an adjunct faculty member in the University's Medical School and School of Public Health. She is the former chair of the Board of Regents and was the Executive Director of the Nobel Peace Prize Forum, through which she worked with both the Nobel Institute and its laureates.
Cancellations are subject to a 10-percent processing fee if received five or fewer working days before the program start. Refunds are not granted if you cancel on or after the first day of the program. Notice may be emailed or faxed to: cceinfo@umn.edu | 612-624-5359.