LL X114
-
The Apocalypse: A Cultural History
8763281
Description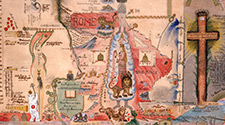 For at least two-and-a-half millennia, prophets, politicians, and poets have crafted terrifying accounts of the end of the world. This course in comparative social history examines the way different cultures have imagined a final apocalypse with particular attention to the political and social consequences of their visions.

The course opens with a unit on the ancient Middle Eastern texts that would influence apocalyptic belief in subsequent generations: the Zandi Vohuman Yast (Middle Persian), the Book of Daniel (Hebrew), the Book of Revelation (Greek), the Qu'ran (Arabic), and early Shiite commentary (Arabic).

Next, a discussion of the flowering of apocalyptic speculation following the Second Great Awakening with particular attention to two radical communities, the Millerites and the Latter-Day Saints.

The final session carries the story through the 20th century with particular attention to the scientific apocalypse that underlies such films as The Invasion of the Body Snatchers and 28 Days Later and to the role of the so-called Religious Right in contemporary US politics.

Required: Walter M. Miller, Jr., A Canticle for Leibowitz (any edition, pub. date 1964).

Recommended: Tony Kushner, HBO Miniseries: Angels in America (Mike Nichols, 2003).

John Watkins is Distinguished McKnight University Professor in the Department of English at the University of Minnesota, where he also teaches in the Department of History. He is the recipient of numerous awards, including a Guggenheim Fellowship, the Arthur "Red" Motley Exemplary Teaching Award, the University of Minnesota Morse-Alumni Award, and the Ruth Christie Award for Excellence in Teaching.
Cancellations are subject to a 10-percent processing fee if received five or fewer working days before the program start. Refunds are not granted if you cancel on or after the first day of the program. Notice may be emailed or faxed to: cceinfo@umn.edu | 612-624-5359.
See complete list of LearningLife courses.