LL X115
-
Einstein's Universe
8764104
Description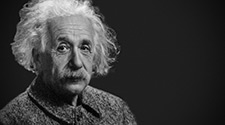 This course surveys chronologically some of the most significant aspects of Albert Einstein's life and work. We'll start by looking at Einstein's beginning as a student, his days as a Swiss patent clerk in Berne (1896–1909), and his development of the special theory of relativity (1895–1912).

We'll then devote time to Einstein's rapid ascent up the academic ladder (1909–1914) and the advancement of his new theory of gravity, known as general relativity (1907–1919).

The latter part of the course will examine Einstein's pioneering work on, and later opposition to, quantum theory (1905–1935). We also will pay attention to current developments in general relativity (such as gravitational waves) and quantum theory (such as quantum information).

Required: Walter Isaacson, Einstein: His Life and Universe (Simon & Schuster, 2007).
Recommended: Michel Janssen and Christoph Lehner, The Cambridge Companion to Einstein (Cambridge University Press, 2014).

Michel Janssen, PhD, University of Pittsburgh, is a professor in the History of Science, Technology, and Medicine Program, School of Physics and Astronomy, and a Fellow of the Minnesota Center for the Philosophy of Science at the University of Minnesota. He is a former co-editor of the Einstein Papers Project and co-editor, with Christoph Lehner, of The Cambridge Companion to Einstein (Cambridge University Press, 2014).
Cancellations are subject to a 10-percent processing fee if received five or fewer working days before the program start. Refunds are not granted if you cancel on or after the first day of the program. Notice may be emailed or faxed to: cceinfo@umn.edu | 612-624-5359.
See complete list of LearningLife courses.