LL X116
-
Image, Memory, Perception: A Dakota Guide to Outdoor Survival
8764862
Description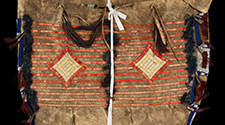 From Robinson Crusoe, The Last of the Mohicans, and Dances with Wolves, to Lost in the Wild, Bear Grylls, and Survivor!, popular culture is filled with tales that celebrate and sensationalize what it takes to "survive" in the wilderness. But what does it really take to survive in the wild, and how does one adapt in order to live, permanently, in and with nature?

Prior to 19th-century treaties between the Dakota and the US government, the Minnesota homelands of the Dakota provided everything necessary (food, clothing, shelter, medicine) to make a home in the natural world. This course will explore the relationship between the Dakota and the Minnesota land on which they survived and thrived before the onset of European contact.

Participants will study the oral and written accounts of the Dakota, early explorers, missionaries, and archaeologists, including those of Charles "Ohiyesa" Eastman, Samuel Pond, Father Louis Hennepin, Jean-Nicolas Nicollet, and Janet Spector. Documents, including the Marschner map (a map of pre-settlement vegetation) and illustrations of traditional Dakota life by Seth Eastman, will launch discussions about how the Dakota were able to reach an apex in their survival abilities and use plants, trees, and animals effectively for food, clothing, and shelter.

Of course, history's greatest lessons have to do with how they inform the present, and so with an energetic nod to contemporary tribal efforts to revitalize the Dakota language, Dakhóta will be interwoven into all learning experiences.

Recommended: Harlen LaFontaine and Neil McKay, 550 Dakota Verbs (Minnesota Historical Society Press, 2004).

Harlen LaFontaine, MS, Central Washington University, is an enrolled member of the Sisseton Wahpeton Dakota Reservation. A recipient of a Bush Leadership Fellowship and a Kellogg Community Leadership Fellowship, LaFontaine is coeditor of 550 Dakota Verbs.
Cancellations are subject to a 10-percent processing fee if received five or fewer working days before the program start. Refunds are not granted if you cancel on or after the first day of the program. Notice may be emailed or faxed to: cceinfo@umn.edu | 612-624-5359.