LL X117
-
Transforming Textiles: A Century of Craft and Innovation
8765169
Description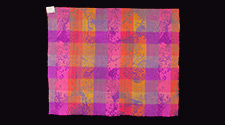 The 20th century was host to numerous handcraft revivals, including the introduction of the digital innovations that are now a 21st-century hallmark. From the Arts and Crafts movement of the early 1900s and the machine age of the 1920s, to the counterculture of the 1960s and the technical developments of the 2000s, this course begins with a presentation that traces the rich history of textile transformation.

In the second session, participants will tour the Goldstein Museum of Design exhibition Jack Lenor Larsen at 90: Transformations by a Textile Innovator. Renowned for his groundbreaking approach to textile design, Larsen transformed both the imagery of and techniques used in making contemporary fabrics. You'll earn how he sourced information from his travels, reinterpreted tribal objects into fresh design concepts, and translated traditional handwork into the modern techniques necessary for mass production. Later, a digital-printing demonstration will accompany the discussion of when, where, and how technology first came to intersect and coexist with textile crafts.

The final session will take place at the studio of Betsy Thayer, a Minneapolis-based artist who uses traditional techniques and imagery in novel ways. Known for her distinguished hand-produced textiles for interiors, Thayer also applies her design and pattern expertise to fine art "paintings," many of which evoke Japonisme-influenced interiors.

Anna Carlson, MFA, University of Minnesota, is an artist who addresses current issues in her cloth and apparel. A former clothing collection designer, Carlson has taught apparel and surface design for more than 20 years.
Offered in cooperation with the Goldstein Museum of Design.
Cancellations are subject to a 10-percent processing fee if received five or fewer working days before the program start. Refunds are not granted if you cancel on or after the first day of the program. Notice may be emailed or faxed to: cceinfo@umn.edu | 612-624-5359.
See complete list of LearningLife courses.