LL X118
-
Sport Evangelism
8765412
Description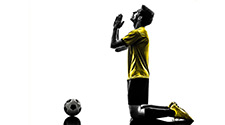 Sport is played and watched throughout the world, whether as a hobby, a career, or as part of a fitness regimen. But what are the implications of sport for society when the effects are often as far-reaching off the field as on? Who ultimately wins? Who loses? This seminar delves into the political, economic, and social impact of sport, specifically sport evangelism: the spreading of Western values and ideals through sport, as well as its use to promote political and religious ideologies globally.

As part of this discussion, sport scholar Dr. Jo Ann Buysse will point to the widespread influence of Major League Baseball's academies in the Dominican Republic and the unmistakable power of Fédération Internationale de Football Association (FIFA) worldwide. She will similarly examine the historical and ideological roles of religion in sport as exemplified by the Vatican, as well as the current international youth movement that underscores empowerment and education through sport.

LearningLife seminars embrace Socrates's belief in inquiry and exchange; they include both lecture and critical discussion.

Jo Ann Buysse, PhD, University of Minnesota, is a senior lecturer in the School of Kinesiology and an affiliated scholar of the Tucker Center for Research on Girls and Women in Sport, College of Education and Human Development, University of Minnesota. She is the former coordinator and director of the Sport Studies and Management Program through which she continues to teach and supervise student internships and undergraduate research projects.
Cancellations are subject to a 10-percent processing fee if received five or fewer working days before the program start. Refunds are not granted if you cancel on or after the first day of the program. Notice may be emailed or faxed to: cceinfo@umn.edu | 612-624-5359.
See complete list of LearningLife courses.