LL X120
-
Suicide: The Necessary Conversation
8766648
Description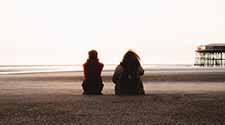 Suicide is the 10th leading cause of death in the US with one death occurring every 13 minutes, yet few of us have an accurate understanding of this complex and sometimes emotionally charged public health issue.

In this course, you will examine the most current information and research on what is known about suicide (the highest suicide rates in the US are among whites, American Indians, and Alaska natives), how to prevent it (80-90% of people who seek treatment for depression are treated successfully through therapy and/or medication), and what life is like for those left in the wake of a suicide tragedy (approximately one-quarter-million people become suicide survivors each year).

In addition, you will learn about new innovations in suicide prevention (including the use of technology and the call for responsible media reporting), as well as how to respond to someone who feels suicidal or hopeless.

Participants should come with an open mind and be prepared for a challenging discussion.

Dan Reidenberg, PsyD, University of Minnesota, is Executive Director of Suicide Awareness Voices of Education, a nonprofit working to prevent suicide and help suicide survivors and people suffering from brain illness. He is Managing Director of the National Council for Suicide Prevention and serves on steering committees for the Suicide Prevention Resource Center and the National Suicide Prevention Lifeline. Reidenberg is a recipient of the B. Warren Hart Award for Service to Humanity was recognized as a "Champion of Change" by the Obama administration.
Cancellations are subject to a 10-percent processing fee if received five or fewer working days before the program start. Refunds are not granted if you cancel on or after the first day of the program. Notice may be emailed or faxed to: cceinfo@umn.edu | 612-624-5359.
See complete list of LearningLife courses.