LL X122
-
The St. Croix River Valley: A Geological Tour
8848191
Description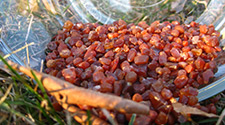 To say that geological events are slow would be an understatement, and because they take place over extensive periods of time, it's difficult for us to imagine how an area appeared in the geologic past. Interstate State Park in the St. Croix River Valley is no exception. The park, which is comprised of two adjacent parks in Minnesota and Wisconsin, straddles the St. Croix River and is home to an amazing collection of geological features that span more than one billion years of the Earth's history.

That history includes incandescent lavas erupting onto a barren landscape, tropical sea surfs pounding against black cliffs, and turbid torrents of glacial meltwaters carving the deep valley we see today.

This one-day immersion offers the opportunity to learn, on site and first-hand, about the fascinating geology and natural history of the area. The day will begin with an illustrated presentation about the region. You'll then travel to the park by coach, where through careful observation and guided exploration, you'll learn how to read the rocks and landforms, but also, to interpret the landscape through a geologist's eyes.

Participants should be prepared to walk on uneven and potentially damp terrain. Tuition includes transportation and meals. Itinerary subject to change.

Jim Miller, PhD, University of Minnesota, is an associate professor emeritus of geology at the University of Minnesota, Duluth, where his research specialty is the geology of northeastern Minnesota. Previously a senior geologist with the Minnesota Geological Survey, Miller has conducted geological research and led field trips for geologists and non-geologists for more than three decades.
Cancellations are subject to a 10-percent processing fee if received five or fewer working days before the program start. Refunds are not granted if you cancel on or after the first day of the program. Notice may be emailed or faxed to: cceinfo@umn.edu | 612-624-5359.