LL X123
-
Our Myriad Shadows: Slavery in Literature
8906216
Description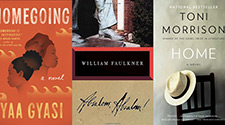 Coming off the popularity of Black and White in Three Genres, Professor Emerita Toni McNaron returns with this book-club style course that continues the conversation about skin color and race and why they exert such a huge, destructive shadow on American culture.

Americans in the 21st century remain haunted by our practice of human bondage known as slavery. Across time, there have been writers who have taken up this vexed subject, giving us novels, stories, poems, plays, and films in which characters—both black and white—struggle with the ways in which racist attitudes contradict stated ideals, laws, and practices. Says McNaron, "It is imperative that we name and confront the myriad shadows that lurk in the American imagination."

To that end, we'll read the work of three authors who tackle the ways in which slavery expresses itself in the US, much to the detriment of all.

We'll begin with Yaa Gyasi's award-winning debut novel Homegoing (September 28), which details the selling of Ghanians into slavery by other Ghanians. On October 19, we'll discuss Absolom, Absolom, William Faulkner's stark dramatization of the lasting damage to white Southerners that results from the long and inhumane practice of enslavement of Africans. And finally, we'll discuss Home by Toni Morrison (November 16), a novel that forces readers to look squarely at what happens to black people if they internalize white-supremacist views and values.

Required: Yaa Gyasi, Homegoing (Knopf, 2016), Toni Morrison, Home (Knopf, 2012), William Faulkner, Absolom, Absolom (any edition, 1936).

Toni McNaron is professor emerita of English at the University of Minnesota where she was the recipient of five awards for outstanding teaching, including the College of Continuing Education's Distinguished Educator Award. McNaron's most recent book is Into the Paradox: Conservative Spirit, Feminist Politics (Hurley Publishing, 2013).
Cancellations are subject to a 10-percent processing fee if received five or fewer working days before the program start. Refunds are not granted if you cancel on or after the first day of the program. Notice may be emailed or faxed to: cceinfo@umn.edu | 612-624-5359.